Seafood Expo Asia 2022, held in Singapore, marked a significant event for the Alaska Seafood Marketing Institute (ASMI) and its mission to expand the presence of Alaska seafood in Southeast Asia.
Here are some highlights and key activities from ASMI's participation at the expo.
ASMI's Participation at Seafood Expo Asia 2022
ASMI's Southeast Asia and Japan representatives, along with the Sr. Director of Global Marketing & Strategy and Sustainability/Certification Advisor, journeyed to Singapore to participate in Seafood Expo Asia 2022. The expo, previously held in Hong Kong, was shifted to Singapore due to Covid-19, resulting in a two-year delay.

At the ASMI booth, various promotional materials, including recipe books and species factsheets, were showcased. QR codes were provided to direct visitors to the ASMI website, social media platforms, and the online ASMI Marketplace. The freezer case displayed an assortment of Alaska seafood species, such as salmon, snow crab, king crab, black cod, Pacific Ocean perch, Arrowtooth flounder, yellowfin sole, pollock, and scallops.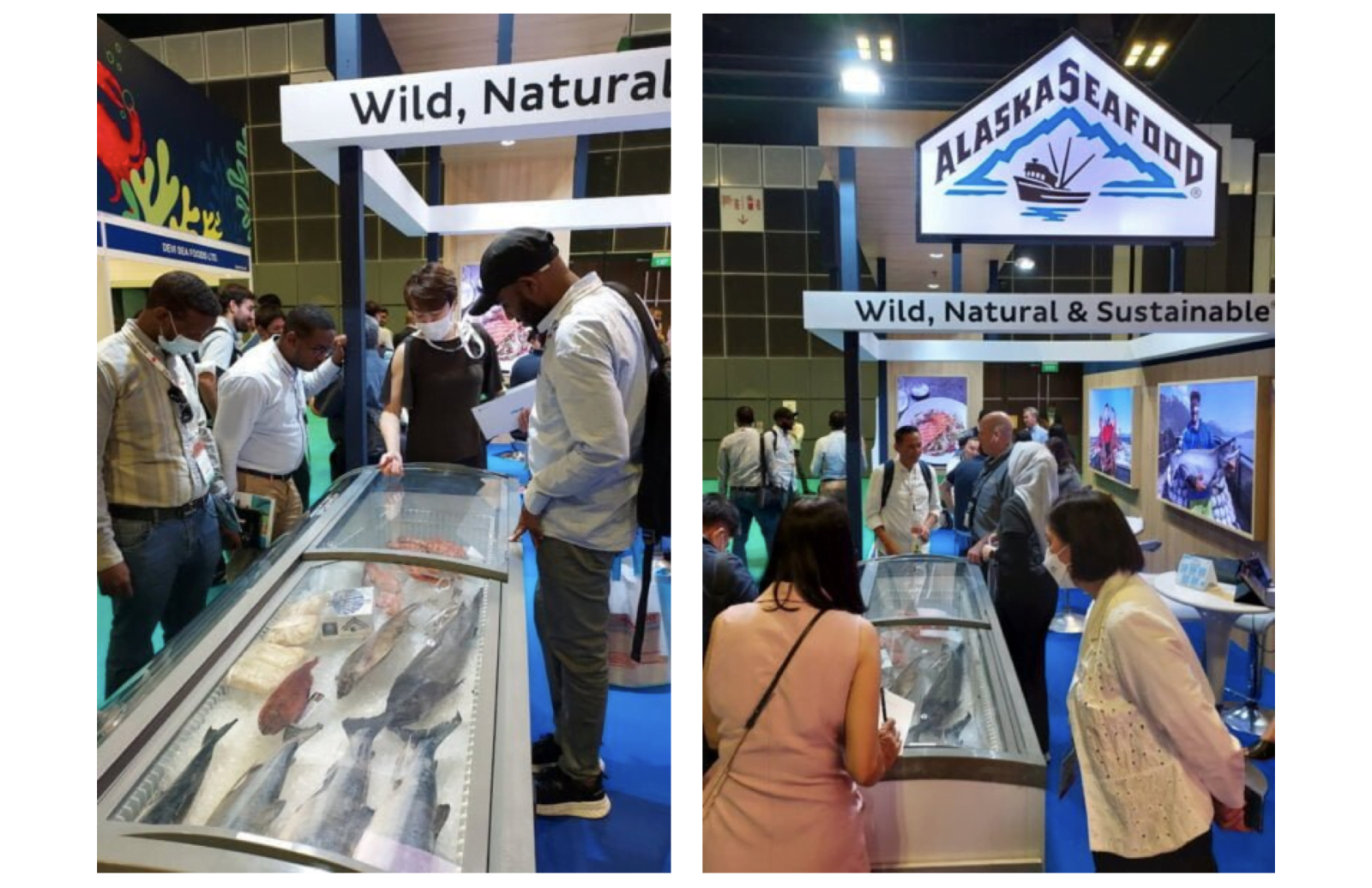 The 33 sqm. booth served as a meeting space for Alaska seafood industry members to engage with their Southeast Asian customers, conduct sales meetings, and foster relationships. Notably, local Singaporean suppliers of Alaska seafood products, Kevin Gantner of The Alaska Guys and Malcolm Ong of The Fish Farmer, were also present at the booth to interact with interested buyers.
Presentations and Cooking Demonstration
ASMI's Susan Marks and Hannah Lindoff delivered a joint presentation on "Sustainability and Eco-certification to Meet Consumer Needs." The focus was on how sustainability has evolved post-Covid-19, consumer trends in the Asian market and beyond, distinguishing Alaska seafood products from other origins, and meeting new consumer demands.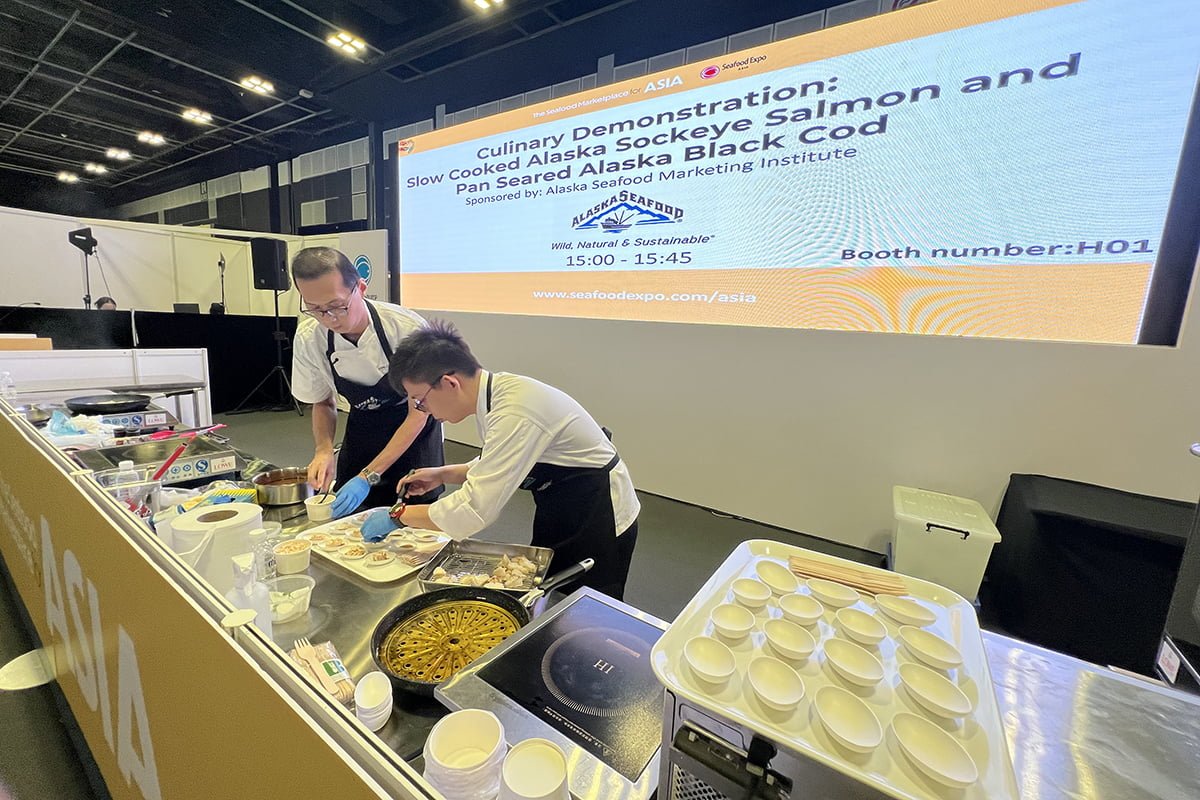 ASMI also sponsored a cooking demonstration at the show's demo stage, featuring renowned Chef Elvin Chew and his team. The demonstration showcased two delicious Alaska seafood dishes: Slow-cooked Alaska Sockeye Salmon in Asian Spiced Fragrant Oil with Spicy Lemongrass Butter Sauce and Herb Cress, and Pan-seared Alaska Black Cod with Traditional Assam Sauce and Puffed Rice.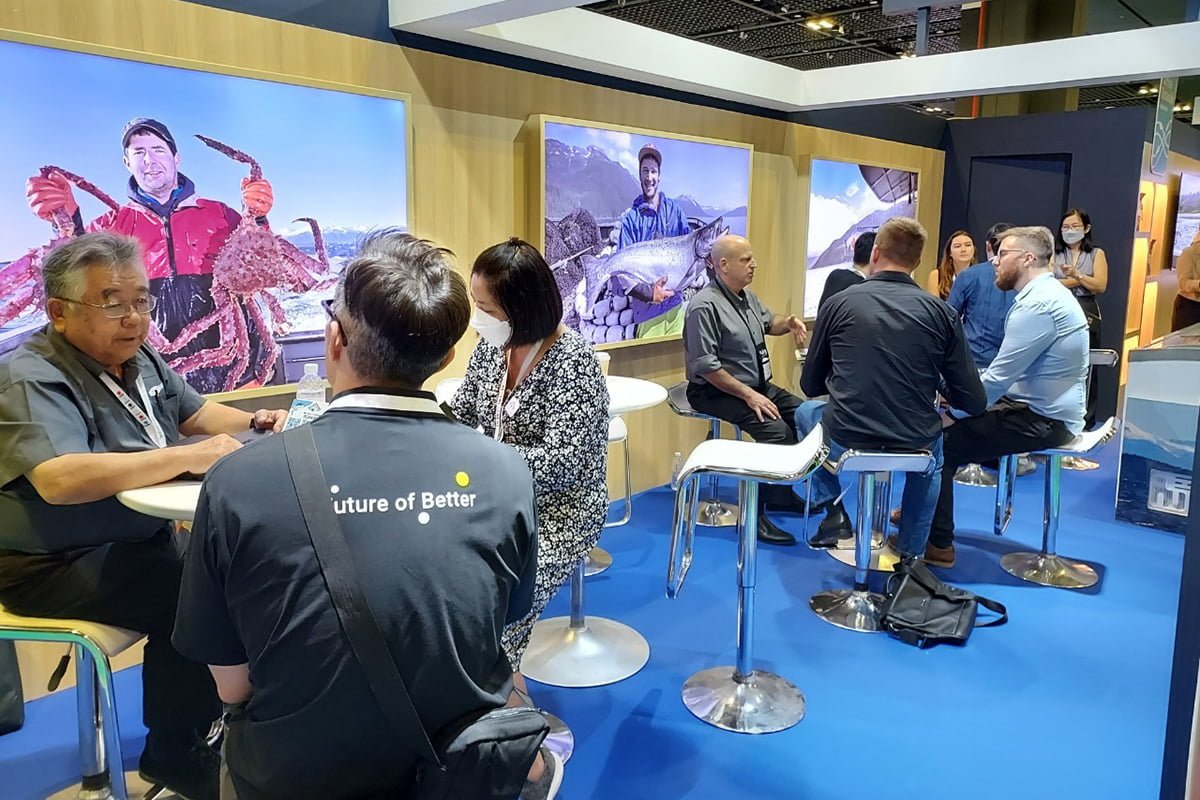 Promotion and Collaborations
ASMI hosted a meeting with a team from NTUC Fair Price and three Singapore-based suppliers to discuss an upcoming 'Alaska Seafood Week' promotion in 44 Fair Price outlets across Singapore. The suppliers and Alaska seafood products that were proposed to be included in the promotion include:
1. The Alaska Guys: Frozen sockeye salmon, Alaska pollock, black cod, and salmon
burger patties
2. The Fish Farmer: Retail pack sockeye salmon and pacific portions and frozen
breaded Alaska pollock
3. EB Frozen Food: Breaded Alaska pollock fish fingers and fish fillets
To strengthen existing collaborations, ASMI also organized a group dinner with Alaska seafood industry members at Brine Restaurant. This gathering served as an opportunity to further enhance relationships and discuss future endeavors.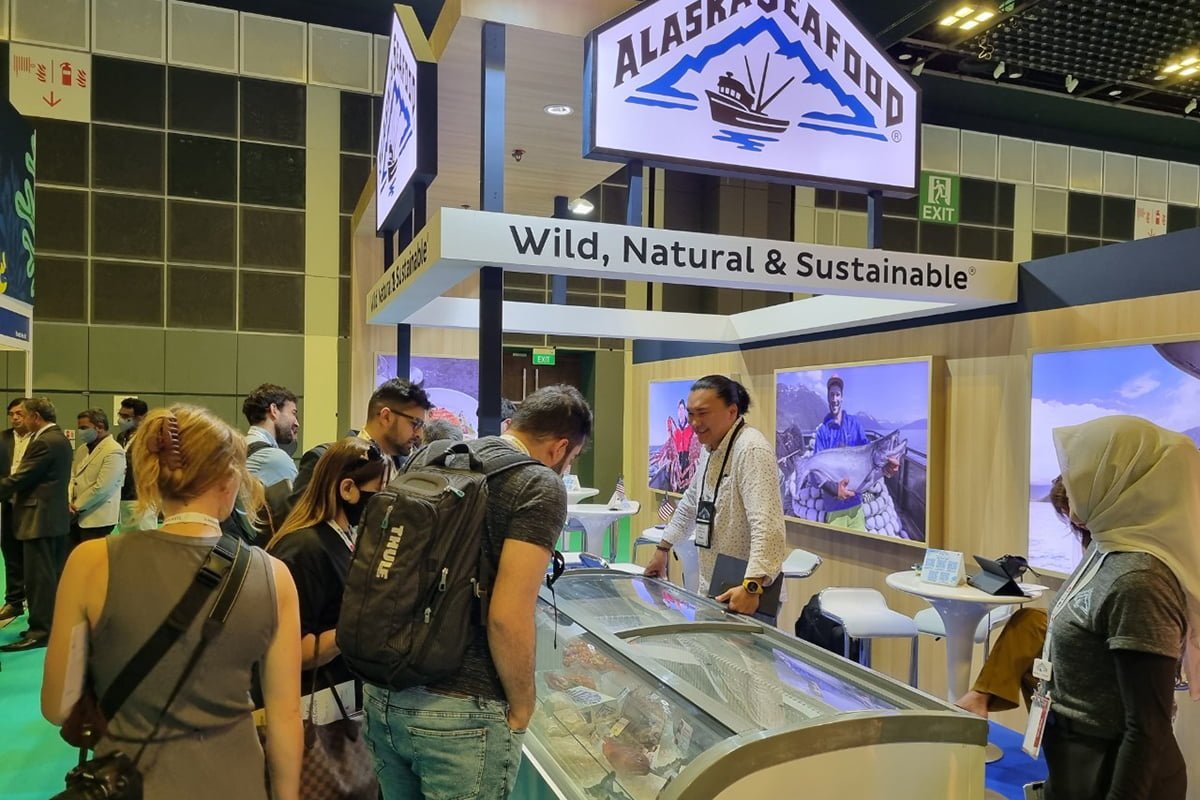 The participation of ASMI at Seafood Expo Asia 2022 in Singapore allowed for the expansion of Alaska seafood's presence in Southeast Asia. Through engaging booths, informative presentations, and collaboration with local suppliers, ASMI aimed to connect with existing and potential customers. The market visits to supermarkets provided valuable insights into the seafood landscape in Singapore. ASMI's efforts continue to promote the sustainability, quality, and diversity of Alaska seafood to satisfy the growing demand in the Southeast Asian market.