ASMI, the Alaska Seafood Marketing Institute, recently conducted a menu promotion in collaboration with four restaurants in the Bangkok area from April to June 2023, and spared no effort in supporting these restaurants in various ways to provide an unforgettable culinary experience. ASMI enlisted the help of influencers to review the menu promotion, provided advertising funds to each restaurant for self-promotion or hiring additional influencers, and showcased the restaurants on our Alaska Seafood Thailand Facebook page and FAS Bangkok's Tasty USA Facebook page. In addition, ASMI covered the cost of point-of-sale (POS) materials, further enhancing the promotional efforts.
 Let's take a closer look at the four exceptional restaurants that delighted customers with their Alaska seafood offerings.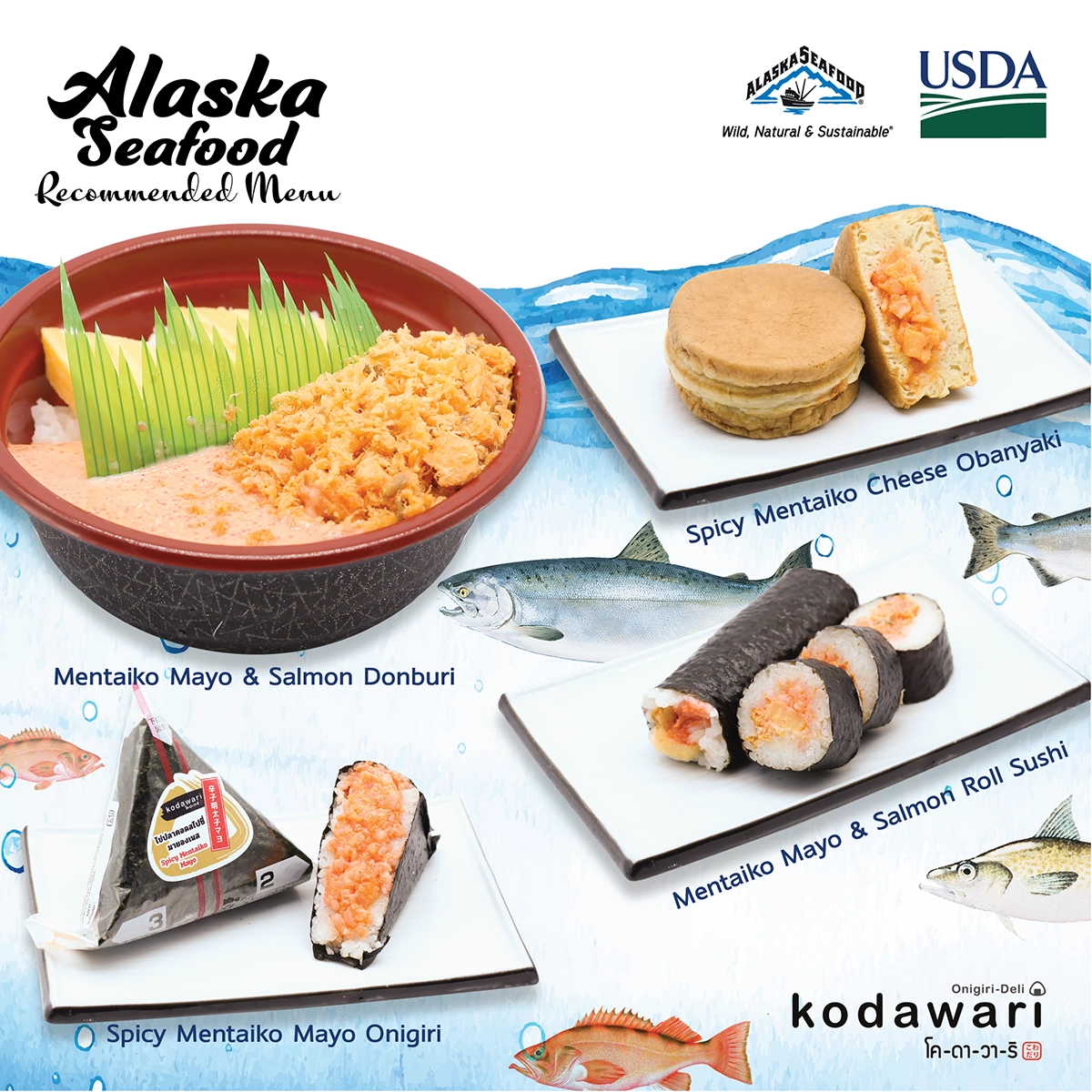 1. Kodawari – Onigiri & Obanyaki by Jalux Asia
Facebook: www.facebook.com/kodawari2018
Kodawari is a Japanese restaurant that embodies the meticulousness of Japanese culture. Their menu boasts exceptional quality, freshness, and premium ingredients. As part of their menu promotion, they showcased the standout ingredient—Mentaiko, or Alaska Pollock fish eggs—in many of their dishes.
First on their menu was the "Mentaiko Mayo & Salmon Donburi," a delightful combination of fragrant Japanese rice, mentaiko mixed with mayonnaise, grilled salmon, and sweet egg. Each spoonful offers a burst of flavors that leaves you craving more.
Their highlight dish, the "Spicy Mentaiko Mayo Onigiri," is a triangular rice ball filled with a delicious mentaiko filling mixed with chili sauce and mayonnaise. Wrapped in fragrant and non-sticky Yamamoto Nori Ten seaweed, this onigiri was an absolute treat.
For sushi enthusiasts, their "Mentaiko Mayo & Salmon Roll Sushi" was a must-try. This sushi roll, wrapped in premium seaweed from Japan, combines soft Japanese rice, mentaiko mixed with mayonnaise, Alaskan salmon, and sweet egg—a flavor explosion in every bite.
Lastly, their "Spicy Mentaiko Cheese Obanyaki" offered customers a Thai-inspired snack. Soft dough stuffed with mozzarella cheese, chili sauce mixed with mayonnaise, and the essential ingredient—mentaiko—creates a surprising and irresistible combination.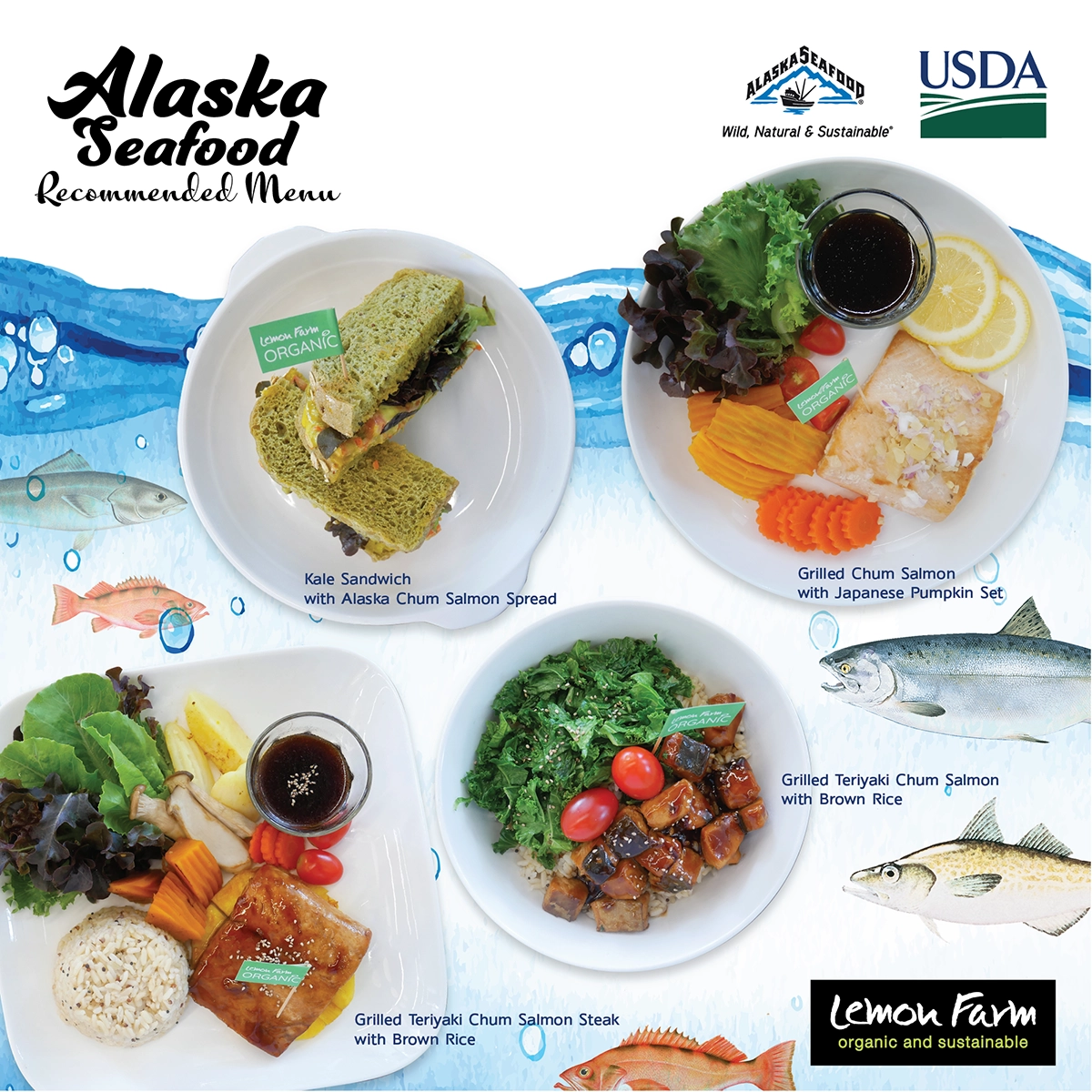 2. Lemon Farm Organic Meal & Café
Facebook: www.facebook.com/lemonfarmorganic
Lemon Farm Organic Meal & Café proudly presented the wild Keta Salmon from Alaska, also known as chum salmon. This variety of salmon features firm pink flesh with a mild flavor, catering to health-conscious eaters.
Their menu included the perfect breakfast dish, the "Kale Sandwich with Alaska Chum Salmon Spread." Grilled kale, Alaskan chum salmon spread, and fresh vegetables come together in a light and healthy breakfast option. Packed with fiber and high-quality protein, this sandwich was a winner.
To please the don lovers, they also had a "Chum Salmon Teriyaki Don," a delightful bowl of rice topped with tender chum salmon, teriyaki sauce, crunchy sweet tomatoes, and nutritious kale that leaves you fully satisfied. They also offered the "Grilled Teriyaki Chum Salmon Set," which featured large pieces of perfectly grilled chum salmon accompanied by fragrant organic rice, fresh vegetables, and pineapples, providing a more substantial and nutrient-rich meal.
Their menu also included the "Grilled Chum Salmon with Japanese Pumpkin Set," featuring the sweetness of Japanese pumpkins, crispy lettuce with balsamic dressing, and a large piece of chum salmon steak grilled to perfection. This dish was a true protein-packed delight, sourced from the bountiful nature of Alaska.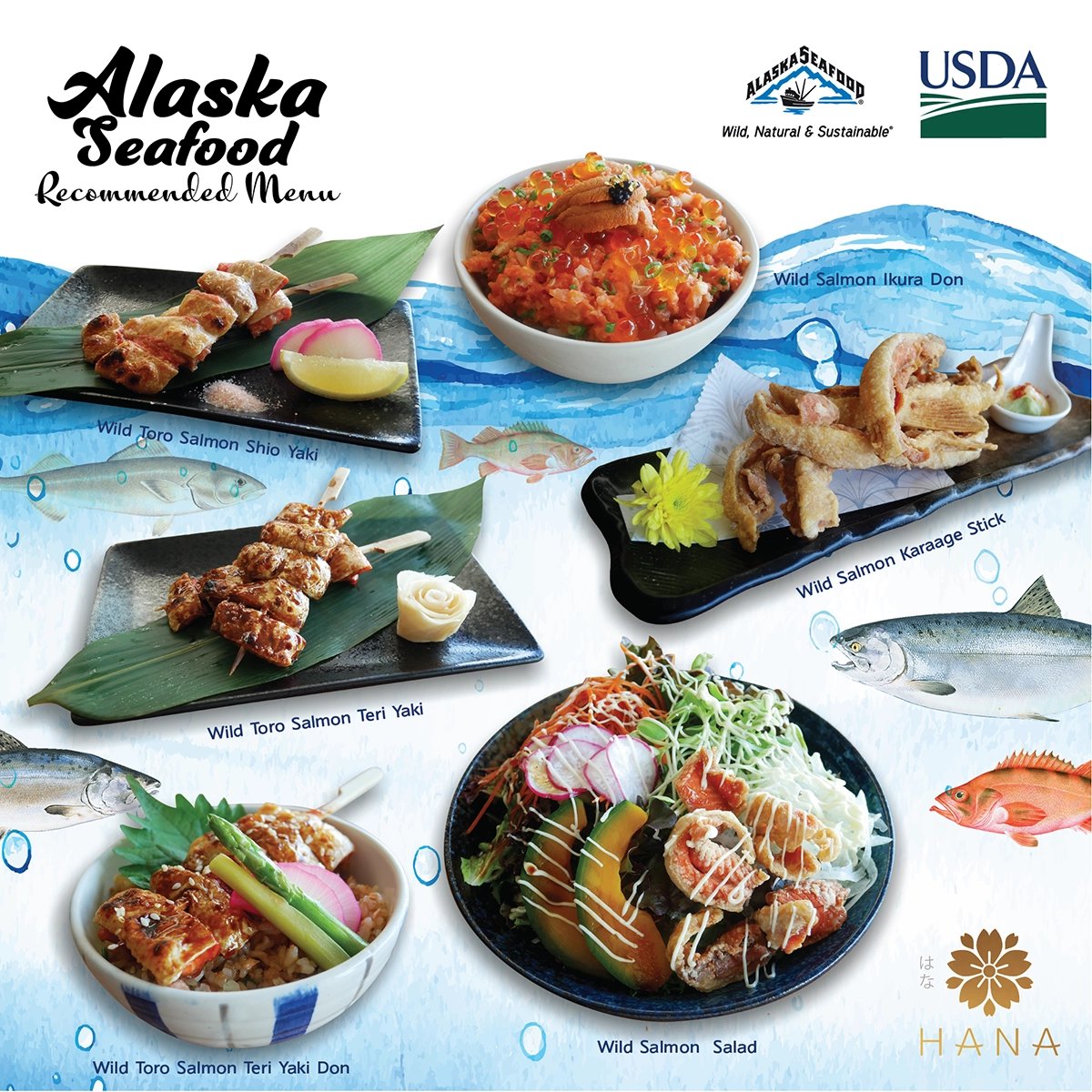 3. Sushi HANA
Facebook: www.facebook.com/SushiHanaThailand
Sushi HANA specializes in premium Japanese cuisine and proudly presented Alaskan sockeye salmon, also known as chum salmon, during their menu promotion with Alaska seafood. For those seeking a fusion of flavors, Sushi HANA is the place to be.
Their standout dish during the promotion was the "Wild Sockeye Salmon Ikura Don," a heavenly rice bowl for don lovers. This flavorful dish combined fresh Alaskan sockeye salmon mixed with the restaurant's special sauce, green onions, and toppings of salmon roe (Ikura), sweet sea urchin, and caviar, offering a delightful combination of tastes.
For a light snack, the "Wild Sockeye Salmon Toro Shio Yaki / Teriyaki" was highly recommended. Whether you prefer salted or teriyaki-glazed, these grilled Alaskan sockeye salmon skewers were delicious. Additionally, they also had the "Wild Sockeye Salmon Toro Karaage Stick", featuring deep-fried sockeye salmon belly served with a delectable wasabi mayo – a dish that was not only tasty but also gave a crunchy texture.
Sushi HANA also offered a healthy option on their menu, the "Wild Sockeye Salmon Toro Salad," combining fresh vegetables, sweet pumpkins, crispy fried Alaskan sockeye salmon belly, and their special salad dressing. This dish not only catered to health-conscious individuals but also delivered incredible flavors.
To conclude the menu promotion, they offered the "Wild Sockeye Salmon Toro Shio/Teriyaki Don," serving garlic fried rice alongside your choice of salted or teriyaki salmon skewers. This dish provided a satisfying and delicious meal that leaves you wanting more.
4. Carbu Cafe & Restaurant
Facebook: www.facebook.com/carbucafe
Carbu Cafe & Restaurant is a place that pays attention to every detail, from sourcing ingredients to creating diverse menus that cater to various tastes, and with the best sourcing of wild and sustainable seafood from Alaska, they created their best recipes yet featuring white fish from Alaska, including black cod and Alaska sole.
First on their menu was the "Pan Seared Alaska Sole in Butter with Macaroni & Cheese." This dish combines the delicate flavor and tenderness of Alaskan sole with the rich and cheesy goodness of the macaroni, resulting in a match made in culinary heaven.
They also offered the "Pan Seared Alaska Black Cod Butter Capers with Fried Potatoes." The melt-in-your-mouth flavor of Alaskan black cod, complemented by a buttery caper sauce and crispy almonds, and served with a side of fried potatoes, this dish provided a delightful combination of textures.
Another option was the "Pan Seared Alaska Sole with Hollandaise Sauce," featuring a delicate and mild-flavored white fish. Served with a smooth and rich hollandaise sauce, along with a side of vegetables, this dish offered both a healthy and incredibly delicious choice.
For a Mexican twist, they presented the "Alaska Sole Fish Taco served with Mexican Salsa Cheese." These crunchy tacos were filled with deep-fried Alaska sole, topped with a flavorful cheese sauce and accompanied by salsa. The combination of flavors made this dish a delightful and crave-worthy treat.
Lastly, they featured the "Steamed Alaska Black Cod with Green Onion & Ginger Soy Sauce," a Chinese-inspired dish. Thick and tender Alaskan black cod was served in a seasoned soy sauce with sliced ginger, spring onions, and red chilies, creating a burst of flavors that would satisfy any palate.
These four restaurants offered a variety of delectable dishes featuring Alaskan seafood, each with its own unique flavors and culinary influences. Whether you were craving Japanese specialties, healthy organic meals, premium sushi, or international cuisine, these establishments provided exceptional dining experiences.
Remember to follow the individual Facebook pages of each restaurant for updates and promotions. Stay connected with us on Alaska Seafood Thailand's Facebook page for more exciting news and events, and we'll keep you updated on more Alaska seafood dining experiences in Bangkok!