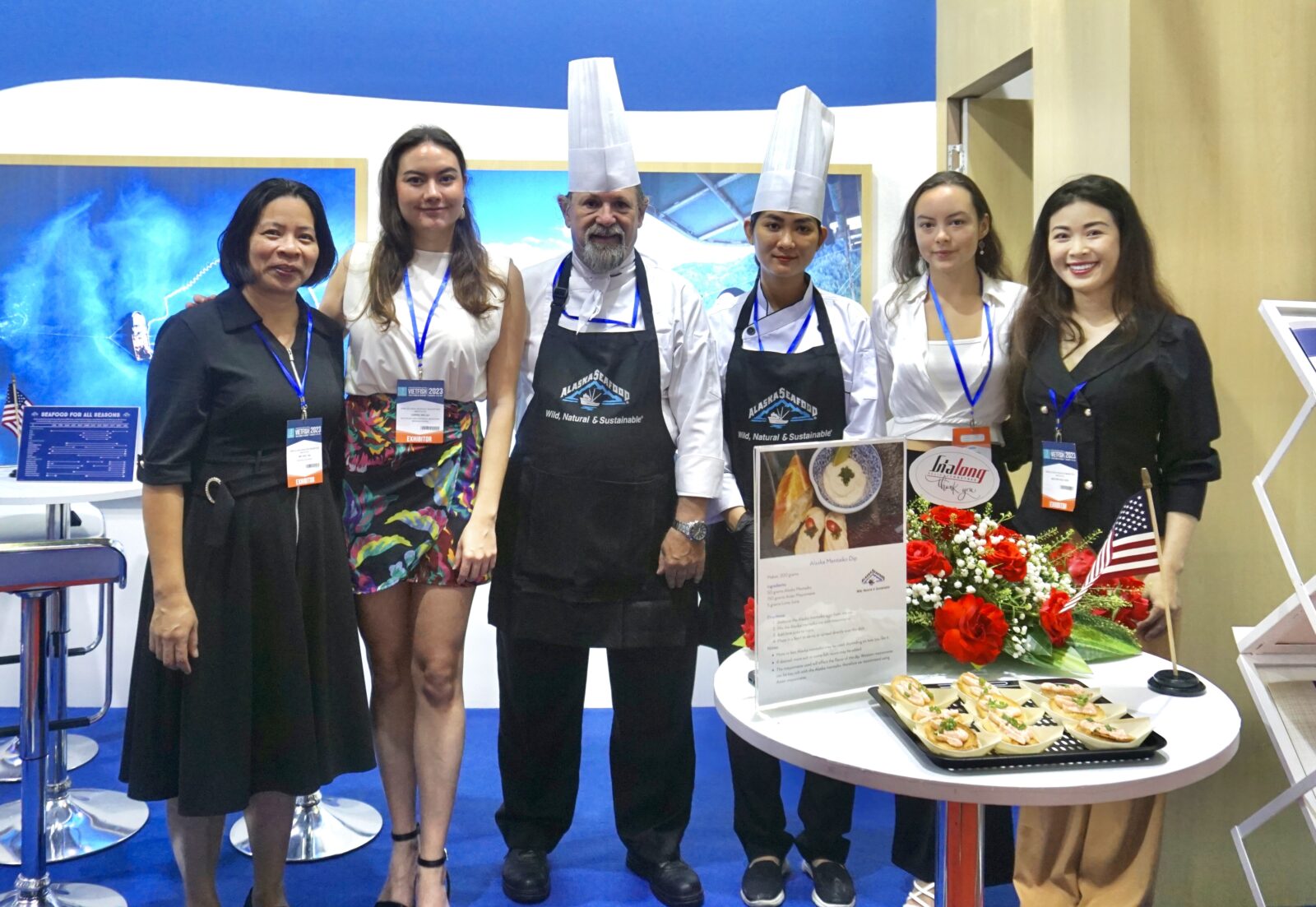 Vietfish, the Vietnam Fisheries International Exhibition, took place from August 23rd to 25th, 2023, at the Saigon Exhibition and Convention Center (SECC) in Ho Chi Minh City, Vietnam. As the largest specialized seafood exhibition in Vietnam, Vietfish is organized by the Vietnam Association of Seafood Exporters and Producers (VASEP).
Each year, it draws over 30,000 attendees, hailing from various corners of the country, region, and the world. Spanning an expansive 8,000 sqm space, Vietfish 2023 featured 420 booths showcasing the products and expertise of 220 exhibiting companies from 14 participating countries across continents.
Beyond its exhibition aspect, Vietfish 2023 served as a dynamic platform for networking, knowledge sharing, and the exploration of new business opportunities. It was an invaluable opportunity for engaging in meaningful discussions with seafood industry leaders, potential customers, business partners, seafood processors, manufacturers, suppliers, and buyers. These interactions fostered valuable connections that have the potential to drive growth and enhance ASMI's presence in Southeast Asia. Vietfish was also a unique setting to meet and establish partnerships with the largest seafood processing and exporting enterprises in Vietnam.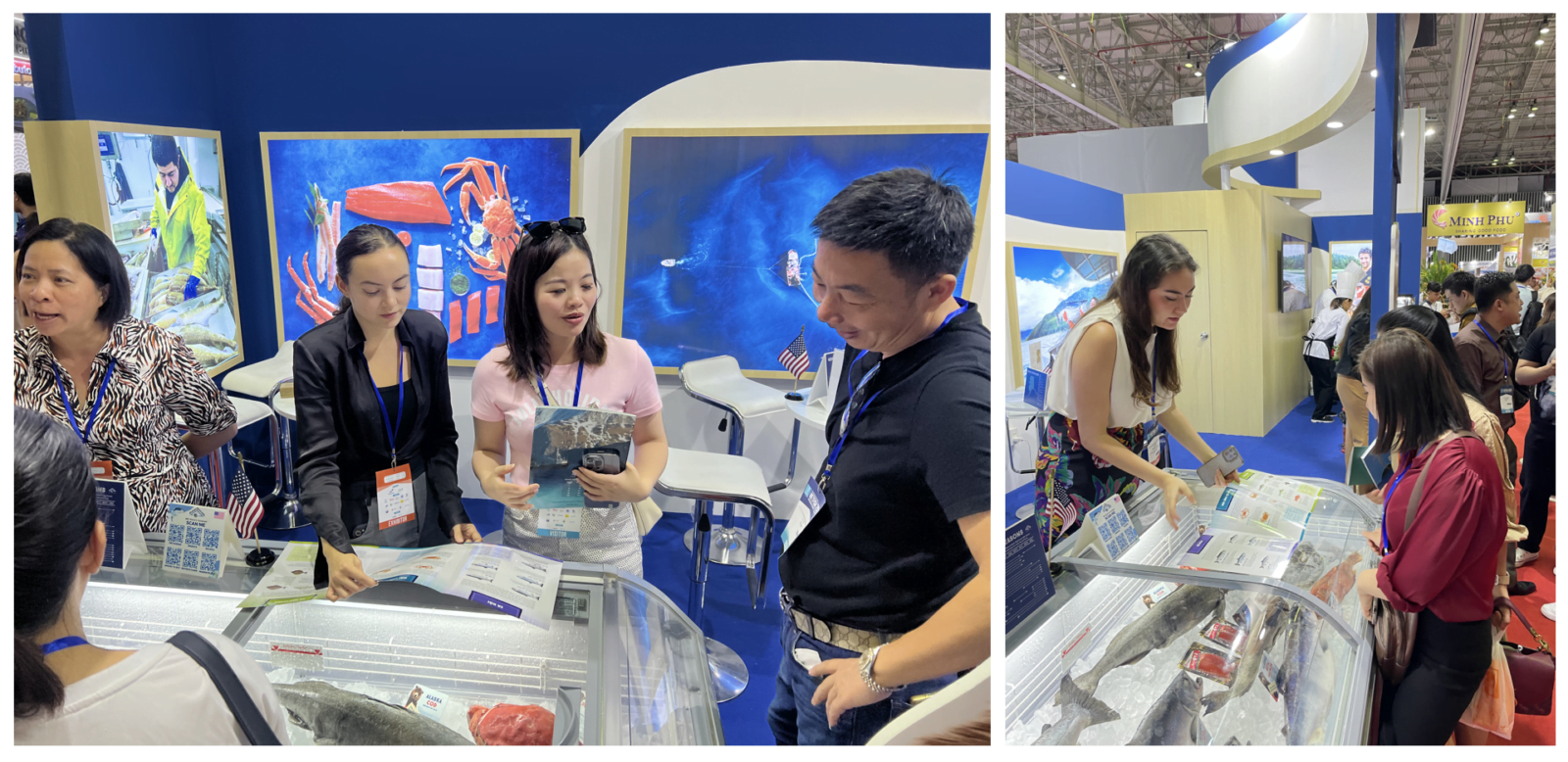 Vietnam: A Global Hub for Diverse Trade Opportunities
One of the standout features of Vietfish 2023 was the diverse range of attendees and promising trade leads it brought to ASMI's booth. Notable attendees at ASMI's booth included Mr. Jaime Ruz of Hai Sam Vietnam, Ms. Xuan and Ms. Trang of Incomfish, Ms. Nhi of Tin Thinh, and Mr. Nam from VASEP. The show also opened doors to a global network of trade opportunities. Among the contacts gathered, a wide spectrum of industry players emerged, including importers/distributors, retail purchasing departments, and processors.  While the majority of these contacts are based in Vietnam, a significant number also came from diverse international locations, including Singapore, Thailand, Malaysia, the UAE, Qatar, Saudi Arabia, Korea, Japan, China, Hong Kong, the Philippines, India, Bangladesh, Portugal, and the United Kingdom. This diverse network underscores the global reach and potential of these emerging trade opportunities from Vietfish 2023, further highlighting Vietnam as a center for seafood processing and buying where ASMI has the potential to grow significantly.
Taste the Goodness
Throughout each day of the show, samples from 6 different Alaska seafood dishes prepared by Chef Norbert Ehrbar of Nhat Nam Fine Foods were distributed to visitors. Recipes sampled included Alaska Mentaiko Dip, Alaska Mentaiko Cream Cheese Wontons, Alaska Pollock Chả Cá, Com Tam with Grilled Alaska Sockeye Salmon, Asian Wedding Dish with Alaska Pollock, and Air Fried Garlic-Pepper Crumbled Alaska Pollock. Alongside these dishes, posters of these recipes were displayed, and brochures were distributed for informational materials about Alaska seafood.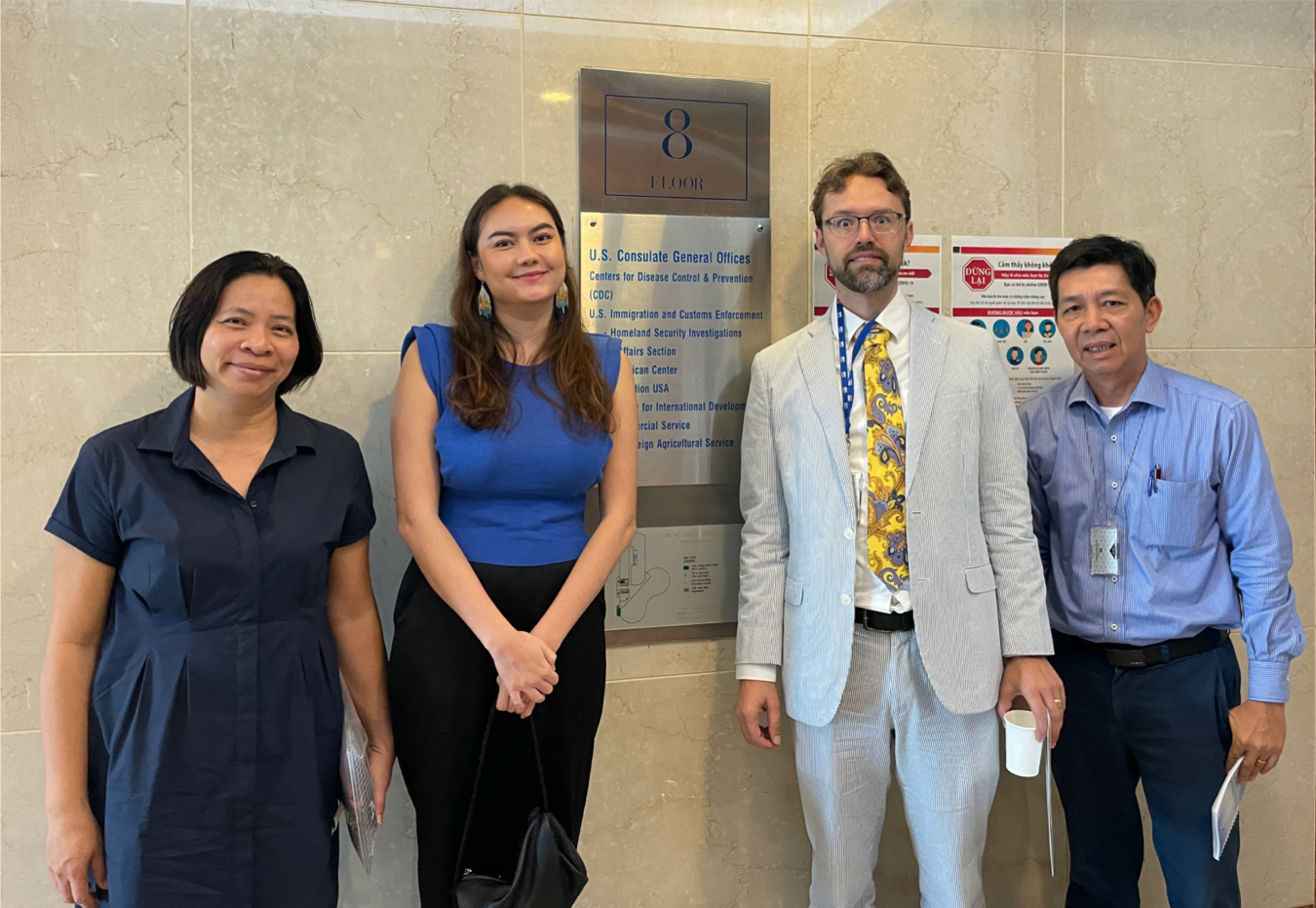 ​​ASMI's Meeting with USDA:
On the morning of August 25th, ASMI's team paid a visit to the USDA Foreign Agriculture Service office in Ho Chi Minh City, Vietnam. The meeting was attended by Mr. Kiet Vo, Agricultural Specialist, and Mr. Andrew Anderson-Sprecher, the Senior Agricultural Attaché who had recently transferred to HCMC.The discussion during this meeting delved into several key topics. One of the focal points was ASMI's existing presence, activities, and relationships within Vietnam, as well as the potential for ASMI's expansion in the Vietnamese market. The insights shared by Mr. Anderson-Sprecher and Mr. Kiet underscored the growing importance of the Vietnamese market for premium American products, and reaffirmed the significance of ASMI's efforts in this dynamic and promising region. Our visit to the USDA Foreign Agriculture Service also served as a valuable opportunity to strengthen partnerships and gain a deeper understanding of the landscape, further paving the way for ASMI's continued growth and success in the Vietnamese market.